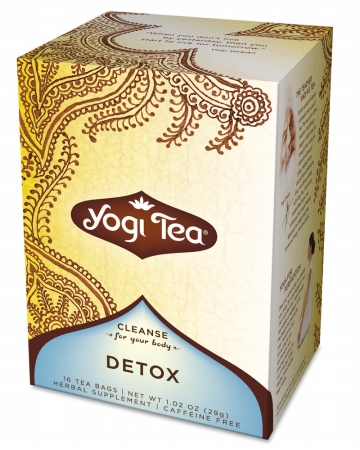 Detox Tea Organic 16 Bag.

As everyday impurities find their way into our bodies we may be left feeling tired or out of balance. Yogi DeTox is a gentle way to help the body cleanse itself by aiding the two primary filtering organs the liver and kidneys. Our tea uses the time-honored purifying herbs burdock and organic dandelion to support the liver. Juniper berry aids kidney function. The traditional Ayurvedic cleansing blend called trikatu (ginger black pepper and long pepper) aids blood flow while Indian sarsaparilla adds spicy flavor. When combined with an overall wellness program DeTox helps bring healthy balance from within.

Suggested Use: As a dietary supplement Bring water to boiling and steep 5 to 10 minutes. For a stronger effect use 2 to 3 tea bags per cup. Drink 1 to 3 cups anytime during the day up to 10 tea bags a day. Because it has no harsh laxatives or diuretics DeTox is mild enough to be used every day for up to 30 days. Or as directed by your healthcare professional.


Serving Size: 1 Tea Bag.

Supplement Facts (Amount Per Serving – % Daily Value):


Proprietary Blend of Herbs: 1810 mg.

Percent Daily Values are based on a 2000 calorie diet.

Warnings: Keep out of reach of children. As with all dietary supplements consult your healthcare professional before use. See product label for more information.

Recommend: Pour one cup of boiling water over tea bag steep 4 to 6 minutes. For stronger flavor steep longer.

Does Not Contain: Caffeine.

Ingredients: OG Cinnamon Bark Sarsaparilla Root OG Licorice Root Dandelion Root OG Burdock Root OG Ginger Root Juniper Berry OG black Pepper Cardamom Seed OG Clove Bud Natural Sarsaparilla Flavor Philodendron Bark Honeysuckle Flower Forsythia Fruit Gardenia Flower Scullap Root Black Cohosh Rhizome&#4
List Price:
Price: