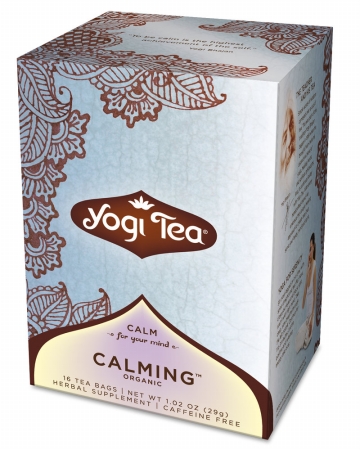 Calming Tea Organic 16 Bag.

Yogis Calming tea is an exclusive blend based on time-tested Ayurvedic herbs that help ease stress and tension and encourage a state of relaxed alertness without drowsiness. This all organic formula contains not only chamomileused for centuries for its ability to help compose the mind and relax the bodybut also lemongrass and gotu kola which have been used traditionally to support the nervous system. Licorice and English lavender add a pleasant naturally sweet flavor that makes this tea suitable for children. So take a break with a cup of Calming teaand discover a soothing natural way to relax.

Suggested Use As a dietary supplement Bring water to boiling and steep 5 to 10 minutes. For a stronger effect use 2 tea bags. As a deliciously sweet alternative serve with fruit juice warm or chilled. Or as directed by your healthcare professional.


Serving Size: 1 Tea Bag.

Supplement Facts (Amount Per Serving – % Daily Value):


Proprietary Blend of Herbs: 1711 mg.

Percent Daily Values are based on a 2000 calorie diet.

Other Ingredients: Organic Barley Malt Natural Plum Flavor.

Warnings: Keep out of reach of children. As with all dietary supplements consult your healthcare professional before use. See product label for more information.

Recommend: Pour one cup of boiling water over tea bag steep 4 to 6 minutes. For stronger flavor steep longer.

Does Not Contain: Caffeine.

Ingredients: Chamomile Flower Gotu Kola Herb Licorice Root Hibiscus Flower Fennel Seed Lemon Grass Cardamom seed Natural Apple Flavor Orange Peel Barley Malt Rose Hips Standardized Kava Kava Root extract (10% Kavalactones).

Safety: Safety sealed with an outer plastic wrap.

Serving Size: 1.

Disclaimer: This website is for informational purposes only. Always chec
List Price:
Price: