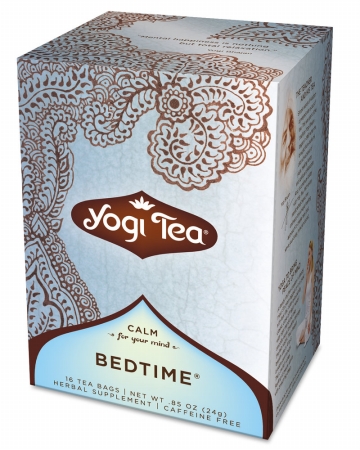 Bedtime Tea Organic 16 Bag.

Tuck yourself into bed and get a restful nights sleep with a cup of our Bedtime tea. This blend is an effective combination of herbs traditionally used for centuries to promote relaxation and sleep. Valerian and organic chamomile can help calm nervousness and restlessness. St. Johns Wort is known for its positive effects on overall mood while passion flower used in Native American remedies helps reduce common anxiety to support sleep. Licorice cardamom and cinnamon add a delicious warming flavor thats just right for drinking before bedtime. So relax and drink Yogi Bedtime teafor a good nights sleep.

Suggested Use As a dietary supplement Bring water to boiling and steep 5 to 10 minutes. For a stronger effect use 2 tea bags. For best results drink before bedtime. May also be used during the day to rest or calm yourself Or as directed by your healthcare professional.


Serving Size: 1 Tea Bag.

Supplement Facts (Amount Per Serving – % Daily Value):


Valarian Root Extract: 20 mg.

Passionflower Extract: 10 mg.

Proprietary Blend Of Herbs: 1430 mg.

Percent Daily Values are based on a 2000 calorie diet.

Other Ingredients: Natural Orange Flavor.

Warnings: Keep out of reach of children. As with all dietary supplements consult your healthcare professional before use. See product label for more information.

Recommend: Pour one cup of boiling water over tea bag steep 4 to 6 minutes. For stronger flavor steep longer. For best result have a cup of organic bedtime tea 30 minutes to 1 hour before bed.

Does Not Contain: Caffeine.

Ingredients: Licorice Root Spearmint Leaf Chamomile Flower Scullcap Leaf Cardomom Seed St. Johns Wort Leaf and Flower Cinnamon Bark Barley Malt Rose Hips Raspberry Leaf Natural Orange Flavor Lavender Flower.< List Price: Price: