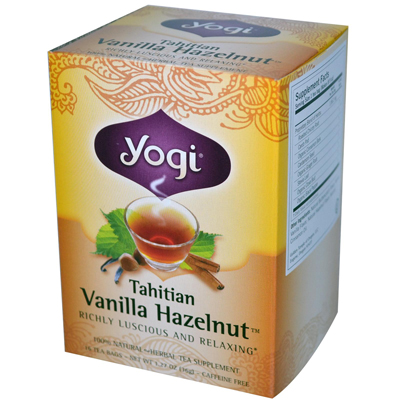 Tahitian Vanilla Hazelnut Tea (Organic) 16 Bag.

Close your eyes and inhale a smooth tropical breeze that carries the rich scent of natural vanilla. Thats the sensation captured in our Tahitian Vanilla Hazelnut. Our distinctive tea combines the fragrance of natural vanilla with the taste of roasted hazelnut. We add depth and delight with a touch of velvety carob. The traditional Ayurvedic spice blend of cinnamon cardamom ginger and clove add naturally warming and cleansing properties. So sit back relax and discover an island retreat in a cup of this enchanting tea.

Suggested Use As a dietary supplement To enjoy our Tahitian Vanilla Hazelnut bring water to boiling and steep 5 to 10 minutes. Add your favorite sweetener and milk or milk substitute. Or as directed by your healthcare professional.


Serving Size: 1 Tea Bag.

Supplement Facts (Amount Per Serving – % Daily Value):


Proprietary Blend Of Herbs: 1861 mg.

Percent Daily Values are based on a 2000 calorie diet.

Other Ingredients: Natural Butterscotch Flavor Natural Vanilla Flavor Natural Hazlenut Flavor and Natural Cinnamon Oil.

Warnings: Keep out of reach of children. As with all dietary supplements consult your healthcare professional before use. See product label for more information.

Disclaimer: This website is for informational purposes only. Always check the actual product label in your possession for the most accurate ingredient information due to product changes or upgrades that may not yet be reflected on our web site. These statements made in this website have not been evaluated by the Food and Drug Administration. The products offered are not intended to diagnose treat cure or prevent any disease. If you believe that you may have a disease condition please consult your healthcare practitioner immediately and before using any dietary supplement product.
List Price:
Price: