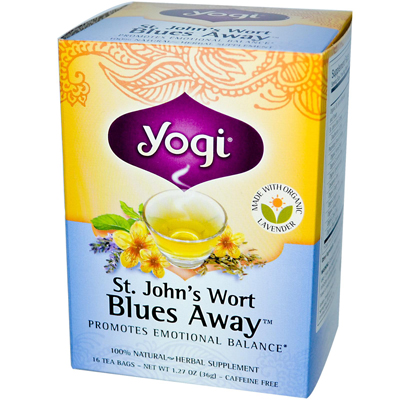 St. Johns Wort Tea Organic 16 Bag.

Say goodbye to the blues with a flavorful cup of this warming and relaxing formula. We use only the finest St. Johns Wort leaf and flower which have been traditionally used to alleviate common anxiety and nervous unrest by helping to settle the emotional imbalances caused by everyday stress. We then add soothing fennel and lively aromatic organic lavender to enhance the teas calming effect. Relax with a cup of St. Johns Wort Blues Away Tea and find harmony within yourself and the world around you.

Suggested Use: As a dietary supplement Bring water to boiling and steep 5 to 10 minutes. For a stronger effect use 2 tea bags. Enjoy a cup whenever you need a little uplift. For additional support drink a cup every 3 to 4 hours. Or as directed by your healthcare professional.


Serving Size: 1 Tea Bag.

Supplement Facts (Amount Per Serving – % Daily Value):


Organic St. Johns Wort leaf and Flower: 843 mg.

St. Johns Wort Extract: 27 mg.

Dianthrones (0.3%): 0.081 mg.

Proprietary Blend of Herbs: 1356 mg.

Percent Daily Values are based on a 2000 calorie diet.

Other Ingredients: Natural Licorice Flavor.

Warnings: Keep out of reach of children. As with all dietary supplements consult your healthcare professional before use. See product label for more information.

Recommend: Pour one cup of boiling water over tea bag steep 6 to 8 minutes. For stronger flavor steep longer. For best results drink 2 to 3 cups per day as needed.

Cautions: This tea should not be taken during pregnancy.

Does Not Contain: Caffeine.

Ingredients: St. Johns Wort Leaf and Flower Tops Fennel Seed Cinnamon Bark Spearmint Leaf Fenugreek Seed Ginger Root Cardamon seed Lavender Flowers Natural Licorice Flavor Glove Bud and Black Pepper.

Safety: Safety se
List Price:
Price: